In this article, we will explain how to choose the best pool fence in 2023. It's statistically proven that having a sturdy pool fence around your pool will save lives.  You may have questions about what type of pool fence should I put around my pool that will ensure my family and others safety.
With drowning being the third leading cause of death in children under 3 in the United States, it is vital that you have the right type of pool fence. In this blog, we are going to go over the top 5 best pool fences in 2023.
There are many different options when choosing a pool fence, but its important to keep in mind that some preparation and research should go into this before just jumping right in.
Types Of Pool Fences
Below are some different types of pool fences that you can look into. Each pool fence has it's own pros and cons for you and your family. Learning about each type of pool fence will help you better understand what you are looking for.
Wooden Pool Fences:
Wooden fences are perfect for pools that have a nature designed-theme. However, wooden fences don't last long. You need to replace them after a few years.
Mesh Pool Fences:
Mesh pool fences are recommended for homes with small kids. They offer great protection and are durable. Small children cannot climb over or crawl under mesh pool fences, unlike other types of fences.
Steel Pool Fences:
If you are looking for privacy, steel pool fences are your best option. The con, steel pool fences require constant maintenance since they are prone to rust.
Glass Pool Fences:
You can also install a glass pool fence. That being said, glass pool fences don't provide privacy and are expensive. In addition, they require regular maintenance and can shatter and be a hazard at your pool.
Styles Of Pool Fences
It is important to make sure you are fulfilling your states standards when it comes to the height, style, and measuring of your fence.
Flat Top – Flat top style is the main style for most pool fences. Vertical bars are joined together by horizontal ones near the bottom and top of your fence.
Double Top – Double top fences are similar to flat top fences, except that they have an additional horizontal bar near the top side. Regularly, ornamental elements are added between the two bars.
Loop Top – Loop top fences use a long piece of bar to form two bars as opposed to using 2 separate bars like the double top model. The metal is curved to fit the desired design.
Wire – Wire pool fences are made with thick metal wire bars as opposed to hollow metal tube bars like the styles above. The outcome is a more weather-resistant and durable pool fence.
Self-Closing, Self-Latching Gate
The Academy of Pediatrics and the US Consumer Product Safety Commission recommend a self-closing, self-latching gate. This gate automatically shuts behind you due to its magnetic power.
Hence, even if you forget to shut the gate, you can go about with your other chores knowing that your kids will be safe.
Resistant, Strong Mesh
The whole basis here of having a strong mesh is so that if a child were to try and push the fence down, it should be strong enough to hold up against any strong impact.
This is called tension-based support material and it's super important to look out for when choosing a mesh pool fence.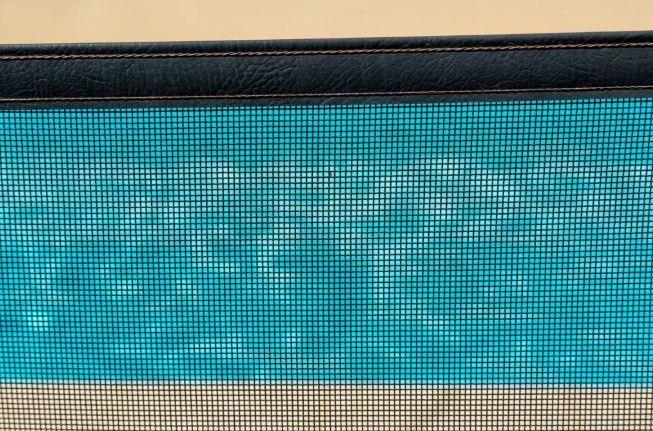 When choosing a mesh pool fence, vinyl and polyester mesh coating is the best material to go for. They are mildew resistant and and makes cleaning easy.
The Height of Your Pool Fence
The rule is; the higher your fence, the better. With that said, you should get a fence that is at least 4 feet high. Remember that your child is growing.
Hence, as opposed to getting a new fence every time your kid grows a foot tall, the most affordable investment is to buy the tallest possible fence.
You want high quality pool fence poles since you will have to meet the safety standards. Poles should not be weak. Look into triple-reinforced aluminum support poles.
Conclusion
We hope that we explained everything you need to know about how to choose the best pool fence in 2023. Safety is our #1 concern here at InstaSwim and although private at home swimming lessons provides the best drowning prevention there is, having a strong pool fence will most definitely add to that extra layer of protection and safety.